Qingming Festival was originally held to commemorate a loyal man living in the Spring and Autumn Period (770 – 476 BC), named Jie Zitui. Jie cut a piece of meat from his own leg in order to save his hungry lord who was forced to go into exile when the crown was in jeopardy. The lord came back to his position nineteen years later, and forgot Jie Zitui but later felt ashamed and decided to reward him. However, Jie had blocked himself up in a mountain with his mother. In order to find Jie, the lord ordered that the mountain should be set on fire. Later Jie was found dead with his mother. In order to commemorate Jie, the lord ordered that the day Jie died was Hanshi (Cold Food) Festival – the day that only cold food could be eaten.
The second year, when the lord went to the mountain to sacrifice to Jie, he found willows revived, so he gave instructions that the day after Hanshi Festival was to be Qingming Festival. Later, the two festivals were combined as one.
Qingming Festival is a time of many different activities, among which the main ones are tomb sweeping, taking a spring outing, and flying kites. Some other lost customs like wearing willow branches on the head and riding on swings have added infinite joy in past days. It is a combination of sadness and happiness.
Due to the covid-19 spread all over the world. Peoples in china are suggested to stay at home for holiday. We could deliver our miss and do tomb sweeping through third party service. We should try to avoid stay outside with crowds to ensure safety. Let's fighting with the virus by hands. God Blessing all the Warriors flight with covid-19.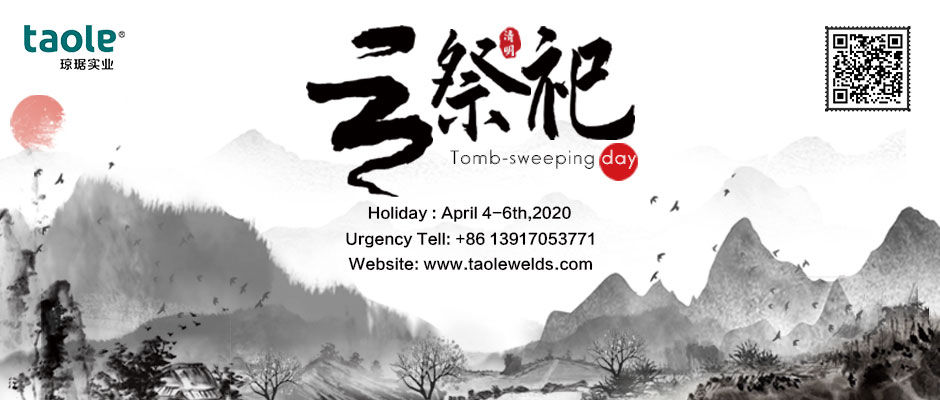 SHANGHAI TAOLE MACHINE CO.LTD 
China manufacture / supplier for plate edge beveling machine, plate edge milling machine, plate chamfering machine for pre-welding.
Pipe cold cutting beveling machine, pipe beveling machine, pipe chamfering /grooving tools for pre-welding
Send your message to us:
---
Post time: Apr-03-2020