When people purchase a machine. They always expect machine to work with long life time. In this case, How should we make it and how to maintanance during operation.
For GMMA models plate beveling machine from Taole Machine, We paid high attention on the beveling machine constructure ,material quality , spare parts quality and so on from beginning of the plate beveling machine design, production. But Proper operation and in time maintnance is also very importment on the life time of plate beveling machine , Milling heads and inserts for beveling machine.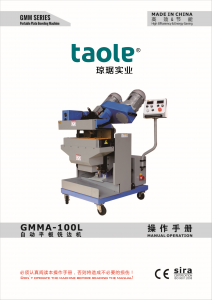 We, Shanghai Taole Machine Co.,Ltd  have been manufacture and supplying plate beveling machine and pipe beveling machine with more than 15 years experience. For plate beveling machine GMMA model and GBM models. It was started from year 2004 unti now 2020 with the new generation.  At this moment, We are having GMMA milling type beveling machine like models GMMA-60S, GMMA-60L, GMMA-60R, GMMA-80A, GMMA-80R,GMMA-60U, GMMA-100L, GMMA-100U,GMMA-80D,GMMA-100D,GMMA-100K,  GBM shearing type plate beveling machines with models like GBM-6D,GBM-6D-T,GBM-12D,GBM-12D-R,GBM-16D,GBM-16D-R.  Below packing list for GMMA steel beveling machine.
Question 1: How to setting up a plate beveling machine?
Question 2: How to ensure the proper operation for beveling machine?
Each manufacture have their own design, skills and operation way for beveling machine. We have pointed the details and suggested step by step on the plate bevelng machine based on our experience. Pls feel free to contact us  info@taole.com.cn  for getting the operation manaul. Pls read the operation manaul carefully and get to know the adjustment for each part and buttom before operation.
1) Machine packed in wooden case. Please open the case and ensure the machine in good condition.
2) Take out machines, Load the 4 wheels and safety connect with electric.
3) Beveling machine adjustment,  Plate thickness, bevel angel and feeding depth as per bevel requirements.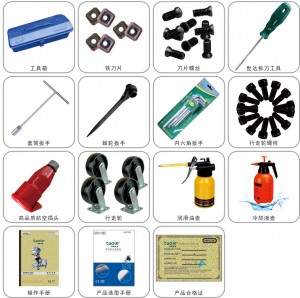 Question 3 : What  should we pay high attention during the bevel machine operation?
1. Operation Table:  For GMMA and GBM plate beveling machine. It is kind of auto walking type beveling machine,request a table for supporting steel plate. You should adjust the machine height according to the table height and plate thickness. Below support and our beveling machine adjustable range each model listed  for reference.

| | | | | | | | | |
| --- | --- | --- | --- | --- | --- | --- | --- | --- |
| Model NO. | GMMA-60S | GMMA-60L | GMMA-80A | GMMA-80R | GMMA-100L | GMMA-100U | GMMA-100D | GMMA-100K |
| Machine Adjustable height | 700-760mm | 700-760mm | 700-760mm | 700-760mm | 810-870mm | 810-870mm | 810-870mm | 810-870mm |
| Suggest Table Height | 730mm | 730mm | 730mm | 730mm | 830mm | 830mm | 830m'm | 830mm |
2. Milling Heads and Inserts:  Instal Milling Head and Inserts as per manual and ensure the rotation with right direction. Pay attention on the milling inserts and do needful replacement based on cutting situation. Coz milling inserts working as consumables. If we continue using a spoiled inserts. It will affect much on the milling heads life time and machine depreciation.
3. Feeding Depth:  After clamping on steel plates and bevel angel adjustment, Pls adjust the feeding depth as per our parameters which attached in manaul and do testing.  Do not cut too big, Otherwise, The machine will directly shut down due to the reducer overload. And it will also leads broken on the milling heads and inserts. 
4. Bevel Angel:  The screws must be lock up after bevel angel adjustment.
5.  Bevel joint type: Most of the machine process V bevel . If you need J or U bevel. Currently only GMMA-60L and GMMA-100L beveling machine from 0 to 90 degree is available. And will need to use Round milling head and inserts.
Pls feel free to contact us  info@taole.com.cn and visit our website: www.taolewelds.com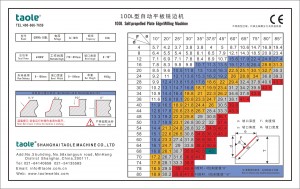 6. Working Speed:  We will suggest a beveling speed and feeding speed on operation manual based on plate materials.  Need to adjust spindle speed accordingly. Specially for plate beginning and ends.
7. Auto Clamping:  Our beveling machine models like GMMA-60S, GMMA-60L,GMMA-80A,GMMA-80A,GMMA-100L machine updated in year 2019 and all those models with auto plate clamping system. But still available for slight adjustment by handwheel.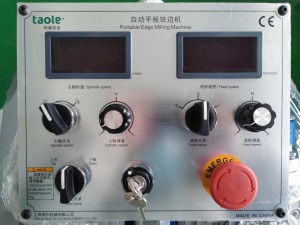 Above Tips for GMMA plate beveling machine operation for reference. Any questions or confusions. Pls do not hesitate to contact with sales or info@taole.com.cn. Thank you for patient.
SHANGHAI TAOLE MACHINE CO.,LTD
"TAOLE" "GIRET" Brand beveling machine
Send your message to us:
---
Post time: May-14-2020